In this article learn how to:
SECTION 1
Activate Periods
By default in Enriching Students you will have 20 periods available to you. To use them, you will need to mark them as active. You can activate 1 or more periods, change their name, and more.
To start, under Admin select Manage Periods. On this page you will see a listing of your currently Active Periods, and then your Inactive Periods. Go to Inactive Periods to activate a period.
Select Actions, then Edit Period next to the period you want to activate.
On the Edit Period page you can change the period name, Start & End Time and Prebook Settings (mentioned in section 3 and section 4 of this article).
Add an SIS Period ID if you like, which should match the corresponding period ID in your school's Student Information System. When using our Export Data feature, this enables Enriching Students to match the value with your SIS.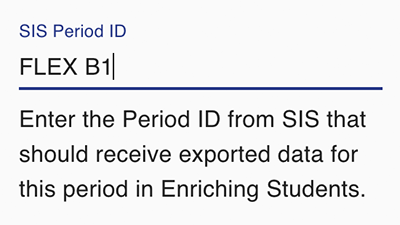 Select the Activate Period checkbox. Click Save, and this period will be activated.

SECTION 2
Deactivate Periods
You can't delete a period in Enriching Students, but you can mark it as inactive so that it's no longer visible to users.
To deactivate a period, go to the Active Periods tab on the Manage Periods page. Select Actions and then Edit next to the period you want to deactivate.
On the Edit Period page, uncheck the Activate Period box, and select Save.
Now this period will be displayed under the Inactive Periods tab.
SECTION 3
Set Start and End Times
If you want to, you can set up start and end times for your flex periods. This helps with scheduling data exports. If you set when your periods begin and end, for example, we can send you an automated export report at a specific time.
Select Actions next to a period, and then Edit.
On the Edit Periods page, select the checkbox that says Set Start & End Time. Click in the label for Starts At and Ends At to select the times. First you will need to select the hour, then the minute, and you can set am or pm.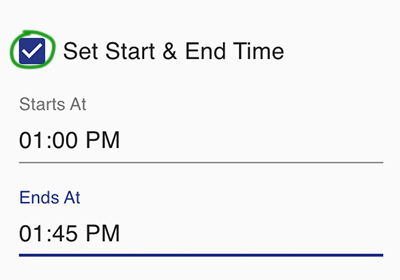 If you want a time range displayed for a period, you will need to type that into the period name. For example you could have 'Session 3 [11:05 - 12:00PM]' typed in to the period name.
When you are finished setting up the times, select Save.
SECTION 4
Prebook Appointments
'Prebooking appointments' means that when students are imported into Enriching Students, they will be pre-booked, or pre-scheduled to their homerooms.
To edit prebook settings for a period, select Actions, and then Edit.
On the Edit Period page under Prebook Settings, check off the day or days of the week you want students to be prebooked to their homeroom, during this period. Check or uncheck the weekday boxes, and then be sure to click Save.
Keywords: edit prebook settings, set up periods, set times for periods, mark periods inactive, mark periods active, how to remove a period